This is an archived article and the information in the article may be outdated. Please look at the time stamp on the story to see when it was last updated.
SAN DIEGO – The return of 240 Marines to San Diego Monday was full of hugs and smiles, but it didn't calm the nerves for military families that the sequestration deadline nears.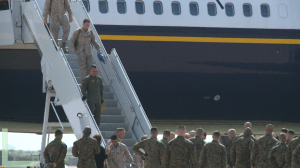 Members of the 3rd Marine Aircraft Wing arrived from Aghanistan to Marine Corps Air Station Miramar and were welcomed home by their families. Like many of them, Marnie Hammond couldn't wait to embrace her deployed husband Max, yet she couldn't help but worry about their future finances.
"It's very scary to think of cuts that happen in the military," said Hammond.  "Sequestration scares me to death."
If Congress cannot reach a budget, spending cuts to the military will begin March 1.
Congressman Scott Peters gathered with several members of the San Diego Unified Board of Port Commissioners to address the topic.
"Congress can't allow the sequester to happen," said Peters. "At the end of last year, the sequestration threatened about 30,000 jobs just in the military alone in San Diego County."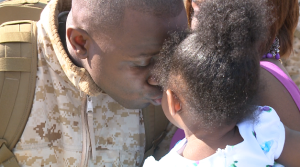 Peters said not only will the sequester affect the military, but it will also cut deep into other sectors of our economy. Millions of jobs hang in the balance.
"If we let the sequester go into effect, it cuts about $3 of our [gross domestic product]," said Peters.  "I think we've been growing at a rate of less than $2 a year. That's a big setback."
Major General Gregg Sturdevant told media that the topic of sequestration wasn't even a small concern.
"I think it will have a minor impact and forces that are forward deployed," said Sturdevant.