This is an archived article and the information in the article may be outdated. Please look at the time stamp on the story to see when it was last updated.
TEMECULA, Calif. — Vicki Golden rides at the front of the pack as the first woman to qualify for an AMA Arenacross event.
She also owns three X Games gold medals in women's racing. But two years ago, she felt her ultimate dream slipping away. One she chased as a 7-year-old on the mini tracks of San Diego.
The dream? To race motocross full-time. Professionally.
"I just kept getting no after no, and you`re not worth the time," said Golden.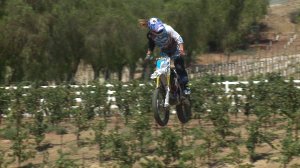 The 22-year-old needed someone to take a chance on her. Someone like Larry Linkogle, freestyle motocross pioneer and co-founder of the Metal Mulisha Motocross team.
"The whole reason Vicki's out here is because you can't buy heart," said Linkogle. "Our whole vibe is to chase your dreams and help people who have heart and are working to achieve their goals."
Golden now has access to Linkogle's private training compound in Temecula. It was on those ramps that she earned a spot with Metal Mulisha as its first female member.
Most recently, she's gained street cred by battling against the guys in the main event of the Kicker Arenacross races in El Paso, Texas.  Golden also hit the ramps in her first freestyle demo. Now she has her sights on an even bigger stage, Supercross.  And she credits Linkogle with the turn in her career.
"It was really uplifting for me to have him help me especially when I was at such a low point in my career," Golden said.
Linkogle remains dedicated to the future of his sport, but he's moving away from a past that almost took him away from it.
"There have been a lot of things in my life that I've struggled with, endured, and still evolve with daily," he added.
Linkogle found a way to leave behind the battles with alcohol, drugs and the dare devil behavior that nearly destroyed him. But he held on to one thing: his faith in freestyle.
"For anyone to make a huge change in their life ,especially after what he's been through, to be able to turn it around, I look up to him a lot," said Golden.
Linkogle chronicles his struggles and the evolution of freestyle his new memoir, 'Mind Of The Demon.'