This is an archived article and the information in the article may be outdated. Please look at the time stamp on the story to see when it was last updated.
SAN DIEGO – It's going to be a Mother's Day like no other for one local family after a reunion that was 52 year in the making.
"It's surreal," said Linda Coppola clutching several bouquets of red roses at Lindbergh Field Terminal One.  "I can't believe it's happening."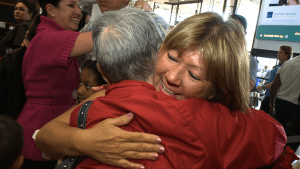 Coppola was given up for adoption in the late 50s when her birth mom couldn't afford to take care of her.  When her adoptive parents passed away a few years ago, she tried to contact her birth parents.  She had no success until recently, when she did some online sleuthing and found a phone number.
"I called my step-father and when he answered the phone he said, 'Oh My God!  We've been looking for you for 52 years. We've had a picture of you on the shelf in the hallway all this time,'" Coppola said.
At 1:20 p.m. on Friday, Coppola got her first look at her biological family as they got off their plane and walked through Terminal One.
"I see them!" Coppola's daughter shouted.
Coppola hugged her mom and two biological sisters.  She embraced her step -father and introduced herself to her new nieces and nephews.
"This is a dream come true," she told her mother.
Her biological family will return to Texas after a long weekend in San Diego
"I just wish we had more time," said Joe Varnell, Coppola's step-father.  "Our circle is complete now.  It's joyous.  Fifty-two years is a long time."