This is an archived article and the information in the article may be outdated. Please look at the time stamp on the story to see when it was last updated.
SAN DIEGO — A pregnant and diabetic San Diego woman who stood behind President Barack Obama at a news conference Monday nearly passed out before she was caught by the president and others.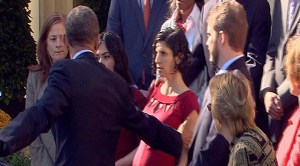 Obama was making remarks on glitches in the roll-out of the Affordable Care Act when Karmel Allison, who was diagnosed with Type 1 diabetes when she was 9 years old, took a deep breath and began closing her eyes.
As the president spoke, she fell slightly back and was held up by a woman next to her, a man behind her and Obama, who turned around and grabbed her.
"You're okay, I got you, you're okay," the president could be heard telling Allison.
Before she was escorted away from the White House Rose Garden, Obama turned back to reporters and said, "This happens when I talk too long."
Allison, who works in computational biology at UC San Diego, tweeted later that she was fine.
"I'm OK world- just got a little lightheaded. Thanks, @BarackObama for catching me! And good thing this pregnant diabetic is pregnant :)," her tweet said.
A few hours later, Allison told CNN's Brooke Baldwin she was "feeling much better now."
"I'm 20 weeks pregnant at this point and I hadn't had that much to drink that morning because I was worried about possibly needing to go to the bathroom during the speech," she said in a phone interview on "Newsroom." "And as the sun hit me, I got a little lightheaded."
Allison said she was treated by the White House physician. "Now I get to say that ACA got me care by the White House medical professional," she joked.
Allison, who represented the American Diabetes Association, was at the event because she said she had a positive experience while researching options under Obamacare, according to a White House description.
"It was an honor to be there and I'm rather sorry I fainted in the middle of the speech, but I was really happy to be able to be on stage at that moment," she said.
Allison also authors a blog on the ASweetLife.org website, on which she praised CoveredCA, the state's insurance exchange under Obamacare, for not asking whether she had diabetes.