This is an archived article and the information in the article may be outdated. Please look at the time stamp on the story to see when it was last updated.
SAN DIEGO – The injuries from the Boston bombings are traumatic and wide-spread and not unlike what Dr. Jay Doucet encountered during his three tours in Afghanistan with the military.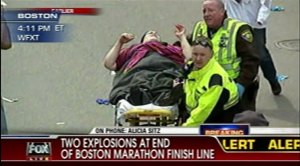 "These are blast injuries; the type of injuries not commonly seen in civilian practice and as a result they're a little more daunting," said Dr. Doucet, trauma surgeon at UCSD Medical Center in Hillcrest.  "They look much more horrific."
Dr. Doucet said the likelihood of those patients being in shock and needing surgery is high.
"It puts a big demand on these hospitals," he said.
Dr. Doucet said the San Diego area is especially well-organized and prepared for traumatic events.
"Here at UCSD, we`ve taken over the state trauma cache when it lost its funding so we actually keep an additional 72 hours of additional materials trauma, burn supplies in and above what we would normally have just for this sort of response," said Dr. Doucet.
It's something area hospitals practice.  They rehearse responses to earthquakes, bombings and mass casualties.  The next local exercise is scheduled for the end of May.
"It's to be ready.  We're in a large urban environment," he said.   "This sort of event can happen anywhere."