This is an archived article and the information in the article may be outdated. Please look at the time stamp on the story to see when it was last updated.
SAN DIEGO – Pageants like Miss San Diego are a long time tradition that date back nearly a hundred years, but some local pageants say their number of contestants are dwindling.
It may be every little girl's dream to be a pageant queen, but ironically it wasn't Kelsy Schwarz's dream. Despite that, the 21-year old was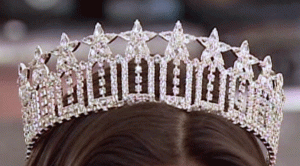 crowned Miss San Diego 2013 and Miss Southland 2014.
"You grow so much as a person," Schwarz said.  "It has been a great experience."
Even though Schwarz has enjoyed her rein as beauty queen, the Miss San Diego pageant which falls under the Miss America umbrella, is having trouble attracting contestants.  The pageant is this weekend and only a handful of girls will be competing.
"This year we have seven  Miss contestants and six teen contestants," said Issie Inserra, executive director of the Miss San Diego Pageant.  "I would like to see at least 12-15 Miss contestants."
Miss San Diego is not the only pageant struggling to recruit girls.
Stephanie Schauer was crowned Miss El Cajon in 2012.
Schauer first entered Miss El Cajon in 2009 and competed 4 years in a row. She said, "I noticed that there was a decline in participants."
Schauer, who is now a pageant consultant for the Miss El Cajon Scholarship Association said there are even fewer contestants this year.
Only three contestants are signed up for the Miss El Cajon category and only four contestants are signed up for the Miss Teen El Cajon category.
"The application deadline is not until February 22, but we're not getting any e-mails from people who might be interested in competing," said Schauer.
Some pageant organizers blame the fact that more and more pageants are popping up, and girls have to pick and choose which pageant they will enter.
"It's essentially, spreading out the wealth of contestants," said Inserra.
Schwarz said she thinks more girls should take a shot at winning the crown, because she says the prize is so much more than that.
"Pageants are a great decision for people who are pursuing a higher education because we get at least a thousand dollar scholarship from Miss San Diego along with other opportunities," said Schwarz.