This is an archived article and the information in the article may be outdated. Please look at the time stamp on the story to see when it was last updated.
SAN DIEGO — About 200 San Diego-area high school seniors celebrating beating their odds and fulfilling their dreams of going to college.
The students are part of Reality Changers, a local organization with a goal to reach out to at-risk youth and build first generation college students.  The organization gathered Sunday at the University of San Diego to celebrate their accomplishments.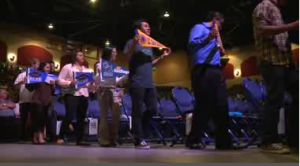 Since she was 5-years-old, Southwest High School senior Lucerito Gutierrez has helped her mother gather cans and bottles to help make ends meet. Gutierrez now has a full scholarship to University of California, San Diego.
"My mom, who has seen [me] picking up bottles and cans and now [I'm] going off to college to become an electrical engineer, is really proud of me," said Gutierrez.
Students with Reality Changers have grown up in rough neighborhoods, surrounded by gangs and drugs.  They've learned harsh lessons at an early age.
"I'd sell jewelry or get summer jobs, save all my money and if my parents needed it give it to them," said Victoria Gonzalez, a Point Loma High School senior headed to Stanford.
Christopher Yanov started Reality Changers by providing coaching and mentoring for students and helping them through the college application process. Gonzalez and Gutierrez are proof of the organization's success.
"We started with $300 a dozen years ago.  Now, students have earned over $40 million in scholarships to universities across the country," said Yanov.