This is an archived article and the information in the article may be outdated. Please look at the time stamp on the story to see when it was last updated.
SAN DIEGO – Two ISIS Instagram accounts and four Facebook pages have been shut down, thanks to the efforts of a local man and a group of activists.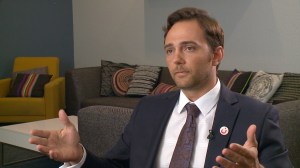 Ben Kalasho is the president of the Chaldean American Chamber of Commerce. For the last week, he has been working with an online coalition to monitor ISIS activity on social media websites like Facebook, Instagram and Twitter.
"I did receive friend requests from some of these ISIS groups so they know we're out there. They know I'm watching," Kalasho said.
According to Kalasho ISIS groups are using social media as a tool for marketing and recruitment.
"They boast and gloat about the necessity of killing Christians and how the Koran calls for killing Christians. By killing Christians, you end up saving a seat for you in Heaven by doing that. So if you're a religious Muslim and young, you'll find those sort of verbiage appealing," Kalasho explained.
Aside from verbiage, Kalasho said the images and videos getting uploaded on the social media sites were gruesome. Content included cell phone video of mass executions, beheadings and forced mutilation. He explained it's all part of the group's marketing tactics viewed by an audience made up of a young and vulnerable generation.
"I'm trying to prevent people's children from watching [the videos] and accidentally scrolling up and seeing somebody getting beheaded. There's no reason that in 2014 we should expose our children to this, expose innocent people to this. We should nip it in the butt where it starts," Kalasho said.
On Tuesday, August 19, a peace walk is scheduled to get underway by a group of Iraqi-Christians in El Cajon.