This is an archived article and the information in the article may be outdated. Please look at the time stamp on the story to see when it was last updated.
SAN DIEGO – A San Diego man is trying to grow breadfruit in some of the world's poorest regions.
If you grew up in Hawaii or Puerto Rico, there's a good chance you've had it before, but breadfruit is rare in most parts of the world.
Josh Schneider is a horticulturist who first came across the unconventional fruit in Hawaii.
"It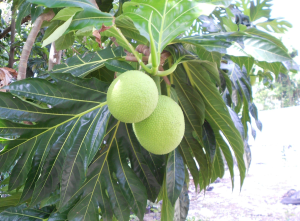 's called breadfruit because in the tropics the people would chop up the plant and put it in a hole with banana leaves.  They'd let them ferment and then the ladies in the village would take a piece of it," Schneider said.
"It's like a sourdough loaf and it looks like bread, it smells like bread and it tastes like bread," said Schneider. "It really is like a potato, anything you can do with a potato you can do with breadfruit."
"I like it fried, you can make pancakes, you can make potato chips," he said.
Breadfruit hasn't been commercialized like other crops, mainly because it can only grow in specific climates, mainly wet and tropical.
The type of weather found in some of the world's poorest regions, many of which have never seen breadfruit.
"It hasn't been as propagated as other crops because there aren't enough trees to go around," said the plant expert.
But he is trying to change that. He's working with botanical scientists in Hawaii to reproduce breadfruit trees and ship them to parts of the world that can benefit.
The breadfruit tree is a sustainable food source in countries where it grows. And it's capable of growing fruit through most of the year and if maintained it can live over 100 years.
Schneider is currently meeting with government officials in developing countries to help introduce the potato like fruit.
The tree has already been introduced to Haiti, where it is used to feed at least 1,000 orphan children every day, through the Trees that Feed organization.
"Every time we plant one of these trees we're reducing the susceptibility to famine and starvation in the country where the tree is growing," said Schneider.