This is an archived article and the information in the article may be outdated. Please look at the time stamp on the story to see when it was last updated.
SAN DIEGO — Some say Tijuana is much safer now than it was 5 years ago, and even safer than many cities here in the US, but one local man wants to warn San Diegans, if you're going to cross to TJ, don't do it on your own.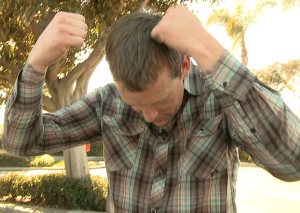 Jeremey Sauritch is still shaken up after what he said happened during his last visit to Tijuana.
Without a job or health insurance, Sauritch decided to go see a dentist in TJ to fix his front tooth.
"That was my cheapest bet," said Sauritch.
The Carlsbad man said he's been crossing the border since he was a teenager and had never had an issue, until Tuesday.
Sauritch told Fox 5, he left the dentist near Avenida Revolución and was walking to cross back home when someone approached him, "A man came toward me saying he wanted to show me something, he had what I needed," said the 34 year old.
It was right then and there Sauritch said he knew things were going to go wrong.
"4 men jumped me, they started punching my head, I have bruises all over my head," said Sauritch.
But recent studies by cross-border groups suggest incidents like this one aren't very common.
 Newly released statistics from research firm 'Crossborder Group' show the number of violent and non-violent crimes has been decreasing since its peak in 2008.
In fact, Tijuana is considered to be safer then several US cities, including St. Lois, Missouri, Oakland, California and Philadelphia, Pennsylvania.
Sauritch said most of his injuries aren't visible and doesn't think it's worth filing a police report.
The San Diego native, who does not speak Spanish, said he knows it could've been a lot worse; he wasn't carrying cash on him and was lucky he had his passport in his front pocket.
"If you're going to cross to Tijuana, be sure to go with a group," said Sauritch.
.