This is an archived article and the information in the article may be outdated. Please look at the time stamp on the story to see when it was last updated.
SAN DIEGO — A local man is bringing new meaning to a symbol that once produced fear and often times meant death for Iraqi Christians.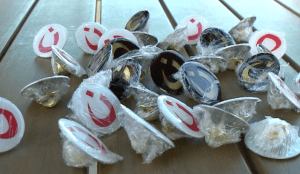 According to Ben Kalasho, president of the Chaldean American Chamber of Commerce, ISIS militants tagged Christian family homes in Mosul, Iraq with the letter 'N' in Arabic.
"The [Arabic] letter 'N' came with a negative connotation. It stands for 'Nazarani' which is Nazarene. That's a derogatory term that extremists use to say that you're from the Nazarene. You are a follower of Jesus," Kalasho explained.
ISIS militants would go to the tagged homes and ask for a tax, demand the family convert to Islam, or face public execution.
"Initially when this first started being spray painted on houses, I wasn't going to let that happen. I wanted to take that negativity and turn it into a positive. I remember vividly and it was about 11 at night, and I told my wife, 'Hey, you know what we should do, we should slap these ISIS guys in the face by making pins [with the letter N],'" Kalasho said.
Kalasho initially had 100 pins made. One week later, he had received 6,300 orders.
"We're selling thousands of pins to Muslim to Jews, to non-believers, and so on. I think it has transformed and it now means 'Anti-ISIS.' People are proud now. It doesn't have a negative connotation like ISIS intended it to be," Kalasho said.
Kalasho said he has received plenty of orders from San Diego but across the U.S. including Arizona, Texas, Missouri and North Carolina. Kalasho has also sent pins to Canada and Australia.
Kalasho's wife, Jessica, has also been a huge help in the process by putting the pins in individual envelopes and sending it off.
Each pin costs $5 and 100% of the proceeds go to the victims of genocide.
For more information and to buy pins, click here.