This is an archived article and the information in the article may be outdated. Please look at the time stamp on the story to see when it was last updated.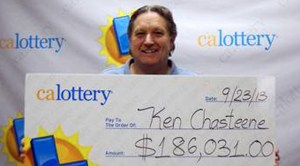 SAN DIEGO — One of the winners of a large Fantasy 5 prize last week was a San Diego cabinet-maker who was struggling financially, the state lottery announced Tuesday.
Ken Chasteene, 52, matched the five winning numbers for Thursday's drawing to win more than $186,000. The winning numbers were 3,6,7,21 and 31.
Chasteene said he hasn't been able to find steady work over the past year.
"The occupation that I have, the industry collapsed," Chasteene said. "Imagine how it feels to be one step away from losing everything. This has to take me as far as I will let it take me … I can pay off my car and a couple of other things. Get that gigantic monkey off my back."
He said he purchased bread and milk at Par Liquor at 5181 Waring Road and decided to buy a Fantasy 5 ticket when he found an extra $5 bill in his pocket.
Chasteene split a $372,000 jackpot with the holder of another winning ticket purchased in the Northern California city of Salinas.