This is an archived article and the information in the article may be outdated. Please look at the time stamp on the story to see when it was last updated.
SAN DIEGO – Take a walk on the Pacific Beach boardwalk at sunset any Monday and Wednesday night and you'll find a group of athletes living it up.
For the past nine years, a group of ultimate Frisbee players have hosted six-on-six, coed pick-up games at night on the beach where Missouri Street ends.
"It's one of the nicest places to play any sport in San Diego," said John "Zeff" Zyphur.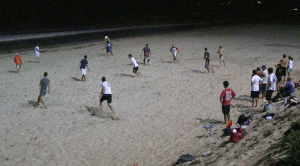 "It's the best thing that San Diego has to offer," said Karen Kutkiewicz.
The lights sit atop the Capri at the Sea Hotel. They come on around 7 p.m. and stay on until about 11 p.m. The lights provides plenty of light to play, although, there are a few dark spots.
"It's wonderful that the hotel provides the light," Kutkiewicz, a member of the Coast Guard and ultimate frisbee player. "It's for safety for the surfers to look at the surf report, and sometimes we have people cheering for us. People go by on the boardwalk and have no idea what we're doing and we provide entertainment for them at night. It's a win-win for the hotel and for us."
"Especially coming from this direction," Zyphur said pointing at the hotel. "Sometimes you might get hit in the face. It's happened to me a couple of times."
When I asked if he keeps coming back, "Zeff replied, "Every time."
"It's kind of what I almost live for," said David Knoles, who never misses a night either.
Knoles, 52, started the pick-up games about nine years ago and added Monday night games six years ago. He gets to the beach at least two hours early to clear away debris and get the court ready.
"People don't really understand what I'm doing," Knoles said. "I'm down on my hands and knees and they'll ask me, 'Did you lose your keys?'"
To the contrary, he's found a hidden treasure where players of all skill levels are welcome to join in the fun.
"The court's really nice," Knoles said. "It's on the beach. You can jump in the water afterwards and get all the sand off you. It's awesome."
Or one could say, it's the ultimate.