This is an archived article and the information in the article may be outdated. Please look at the time stamp on the story to see when it was last updated.
SAN DIEGO – The Index of Leading Economic Indicators for San Diego County climbed 0.1 percent in November, the University of San Diego Burnham- Moores Center for Real Estate announced Thursday.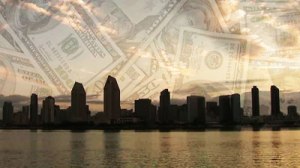 A strong employment gain and moderate increases in consumer confidence and help-wanted advertising offset declines in building permits, local stock prices and the outlook for the national economy, USD Professor Alan Gin said.
"While November's gain was small, it was still positive, so the outlook for the local economy remains for positive growth in 2013," Gin said.
The increase was for the third month in a row, following a 0.1 percent dip in August.
The professor said the "fiscal cliff" agreement was positive, but the deal reached by Congress included a 2 percent increase in payroll taxes, which will affect middle- and lower-class workers the most, because they spend a larger portion of their income.
Automatic federal spending cuts remain on the table, which could have "a big impact" on San Diego's economy in a few months, according to Gin.
He said the number of residential building permits issued in November shrunk for the first time in nine months. On the other hand, the number of initial claims for unemployment insurance were at their lowest since March 2008, a sign of an improving unemployment rate, he said.
The index stood at 122.8 in November, the highest since January 2008. By contrast, the index registered a low of 100.7 in March 2009, at the height of the recession.