This is an archived article and the information in the article may be outdated. Please look at the time stamp on the story to see when it was last updated.
SAN DIEGO – Two San Diego congressmen who seldom see eye to eye have joined forces to introduce a bipartisan bill to clean up the polluted Tijuana River Valley.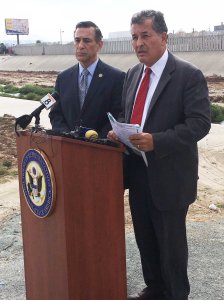 Representatives Juan Vargas (D-San Diego) and Darrell Issa (R-Vista) worked together to draft the Tijuana River Valley Comprehensive Protection and Rehabilitation Act of 2017. They say the bill would rehabilitate and protect the valley and eventually stop the flow of sewage and trash from Tijuana into San Diego County.
Sewage spills from Tijuana flow down the valley several times a year, contaminating coastal waters from Imperial Beach to Coronado, prompting beach closures. The city of San Diego has declared an ongoing state of emergency in the valley due to the repeated spills.
The legislation proposed by Vargas and Issa would establish a program involving federal, local and international agencies to clean up and prevent future sewage spills. It calls for the Army Corps of Engineers to come up with a technical plan to build wastewater processing facilities on both sides of the border to stop the contamination. Based on that plan, the Secretary of the Army would be able to provide grants to build the new treatment facilities.
The plan would also create a system to monitor water contamination and warn downstream residents if flooding or spills occur.
"Sewage from Tijuana has been flowing into the Tijuana River Valley, into beaches in San Diego County, and our communities for too long," Vargas said. "This legislation will help rehabilitate the Tijuana River Valley and rebuild the infrastructure needed to prevent future spills."
Issa said the impact of continuing spills will be felt for generations to come unless preventative action is taken now.
"Allowing the sewage and wastewater to flow up into San Diego County not only hurts small business and our tourism-reliant economy but also poses serious health consequences for local communities and the border patrol agents who have been harmed in their ability to secure our border by the ongoing contamination," Issa said. "Solving this problem will come only with strong bipartisan and international cooperation."