This is an archived article and the information in the article may be outdated. Please look at the time stamp on the story to see when it was last updated.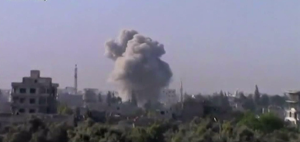 SAN DIEGO — Dozens of Catholics gathered at the Immaculata at the University of San Diego to pray for peace in Syria.
Hoping the power of prayer can help avert a wider war, parishioners attended the prayer vigil after Pope Francis called for a global day of prayer and fasting.
"It's absolutely critical that at all times we pray for peace.  But especially right now," said Clancy Fuzak, a Catholic from Mission Valley.
100,000 people packed St. Peter's Square Saturday for a peace vigil led by Pope Francis.  The Pope referred to the crisis in Syria as a "spiral of sorrow and death."
Francis called for the day of prayer in response to U.S. threats to strike Syria after a chemical weapons attack.  He also urged G-20 leaders to abandon military action.
"I'm actually quite proud of the fact that so early in this conflict that he stepped forward and has been a voice of reason," said Pat Ancowitz, a Catholic from Mission Hills.
As President Obama looks to Congress to approve a strike, Catholics say they're very worried about the U.S. getting into another major conflict.
"I don't really know exactly what our country's role should be in that.  I just hope and pray that good decisions will be made and that it won't make things that are already bad any worse than they are now," said Catholic Elaine Treadwell.