This is an archived article and the information in the article may be outdated. Please look at the time stamp on the story to see when it was last updated.
SAN DIEGO – Steve Fisher, who is credited with breathing life into the San Diego State University men's basketball program and making the team a conference and national power, announced his retirement Tuesday.
The San Diego Union-Tribune reported Monday that Fisher has decided to step aside after 18 seasons.
Fisher assistant and head-coach-in-waiting Brian Dutcher will officially fill Fisher's shoes of the San Diego program.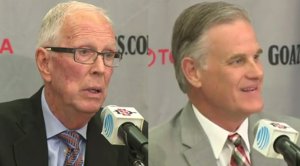 Mayor Kevin Faulconer took to Twitter to thank Fisher.
"Steve Fisher is a legendary coach," Faulconer wrote. "Thanks Coach Fisher for transforming SDSU basketball and leaving behind an incredible legacy."
Fisher, 72, had one more year on his contract. He has been the coach since 1999.
Fisher took his teams to eight NCAA tournaments during his tenure and won the Mountain West Conference regular season championship 10 times. He took his team to the Sweet 16 in the 2011 NCAA men's basketball tournament, losing to eventual champion Connecticut.
Fisher previously coached at Michigan, guiding the Wolverines to the NCAA championship in 1989, just weeks after the firing of coach Bill Frieder, who had accepted the coaching position at Arizona State just before the NCAA tournament began.
Two years later, Fisher was credited with assembling one of the best recruiting classes of all time — Michigan's "Fab Five" group of Chris Webber, Jalen Rose, Ray Jackson, Jimmy King and Juwan Howard. That team went to two national championship games but lost both.
Fisher was eventually fired by Michigan amid an investigation involving a team booster. He was an assistant coach for the NBA's Sacramento Kings for a season before his hiring by SDSU.
Steve Fisher Retires – Curated tweets by fox5sandiego