This is an archived article and the information in the article may be outdated. Please look at the time stamp on the story to see when it was last updated.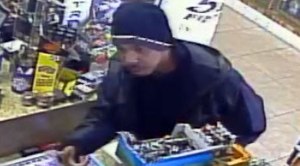 SAN DIEGO — Police released video Thursday of an unsolved liquor store robbery  in the hope that someone will recognize the gunman.
The robbery happened at Soma Liquor and Cigar at 12798 Rancho Penasquitos Blvd. on March 28, investigators said. A gunman threatened the clerk with a gun. The clerk handed over a stack of bills and the robber left the store on foot.
Security cameras in the story captured the robbery and several good images of the robber's face.
The robber was described as a black man in his late teens or early 20s, close to 6 feet tall, thin, wearing a dark watch cap with a white stripe and dark high-top sneakers.
Anyone with information about the robber's identity or whereabouts should call the police robbery unit at 519-531-2299 or the Crime Stoppers anonymous tip line at 888-580-8477. Information leading to an arrest is eligible for a reward of up to $1,000.