This is an archived article and the information in the article may be outdated. Please look at the time stamp on the story to see when it was last updated.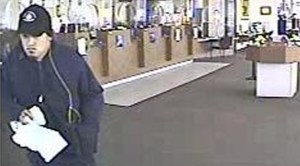 SAN DIEGO — A man who walked with a limp robbed a Hillcrest bank Friday.
The thief handed a demand note to a teller at the US Bank branch office in the 600 block of West Washington Street about 9 a.m., according to San Diego police. He fled with an undisclosed amount of cash, SDPD Sgt. Ray Battrick said.
Witnesses described the bandit as a man in his 20s with a goatee, about 6 feet tall, with a halting gait and an apparent injury to his right eye. He was wearing dark-colored clothing, including a black hat with white logos on both sides, and was carrying a duffel bag.