This is an archived article and the information in the article may be outdated. Please look at the time stamp on the story to see when it was last updated.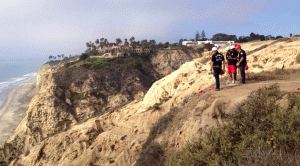 LA JOLLA, Calif. — Two hikers were stranded on the cliffs above Black's Beach, and rescued by lifeguards Sunday.
The incident was reported about 3:15 p.m., San Diego Lifeguard Lt. Andy Lerum said.
"Lifeguards were setting up a system to rappel about halfway down the cliffs to rescue two uninjured people at the north end of Black's Beach," Lerum said.
Lifeguards assisted the two stranded hikers to the top of Torrey Pines cliffs by 4 p.m.