This is an archived article and the information in the article may be outdated. Please look at the time stamp on the story to see when it was last updated.
SAN DIEGO — The $185 million Central Library project is a few months away from being completed and on schedule, but the library foundation needs help with a $15 million funding gap.
"The new central library is about 75 percent complete and it will be opening in the summer of 2013," San Diego Public Library spokeswoman Marion Moss Hubbard said. "The project is on time and within budget."
It took a lot of fundraising to get the ball rolling, but the state and San Diego Unified School District have both put up $20 million and the Center City Development Corporation contributed $80 million.
"The remainder, which is $65 million, was from private donation fundraising," Moss Hubbard said. "I just want to point out that there was no general fund money expended on this project."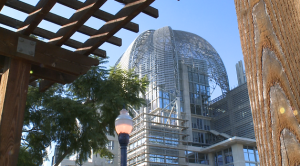 An anonymous donor promised to cover the remaining funding costs so construction could start.
The San Diego Public Library Foundation is making a push to get the public involved in covering the remaining costs. That's where the "Gift a Brick" campaign was introduced.
The campaign sells engraved bricks to the public with a price ranging from $150 to $1000. Larger items are available inside the library; those items range from $2,500 to $25,000.
The bricks will be available online until January 31, 2013.