This is an archived article and the information in the article may be outdated. Please look at the time stamp on the story to see when it was last updated.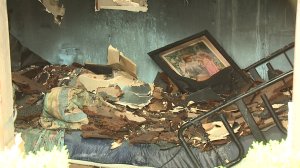 LEMON GROVE, Cali. – A person was injured in a two-alarm fire that damaged three residences in Lemon Grove Saturday, leaving five adults and two children displaced, a fire official said.
Two pet cats were also killed in the fire that broke out about 11:05 a.m. in a duplex in the 7200 block of Central Avenue near Massachusetts Avenue, according to Heartland Fire & Rescue spokesman Sonny Saghera.
One of the building's residents needed help to get from the burning home's backyard to the street due to his physical limitations, but was not trapped inside, Saghera said.
He was taken to UC San Diego Medical Center to be treated for minor injuries.
Two dogs managed to escape the fire, Saghera said.
Heartland crews and those from assisting agencies had the fire knocked down in about 20 minutes, Saghera said.
It caused about $300,000 in damage to three residences and their contents, he said.
Saghera said fire crews limited the fire damage to the duplex and an adjacent unit.
They kept the fire from spreading to other area units.
The cause of the fire was under investigation, Saghera said.
The American Red Cross was called to assist the residents displaced by the fire, he said.