This is an archived article and the information in the article may be outdated. Please look at the time stamp on the story to see when it was last updated.
LOS ANGELES – Lee Marshall, who voiced the Kellogg's Frosted Flakes icon in the late 90s and had decades-long career in radio, died April 26 in Santa Monica, according to Los Angeles Times.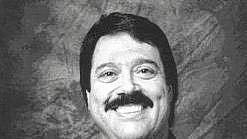 The 64-year-old died at a Santa Monica hospital and had esophageal cancer, his son Jason Marshall VanBorssum told the Times.
Marshall had a "magnificent basso profundo reverberating in wrestling arenas and radio newsrooms for decades." He scored his first full-time radio job in Phoenix after he lied about his age, which was 14.
He spent some time working for KCBQ in San Diego and later headed to Los Angeles radio stations and hosted a talk show from Dodger Stadium.
Marshall traveled the US interviewing professional wrestlers at ringside during televised events.
The ring announcer and sports broadcaster also took his deep, rich voice to selling cereal and bringing cartoon characters to life. In 1999, Marshall was selected to be the voice for Tony the Tiger, whose line "They're grrrrrreat" remains a household saying.
Marshall also landed roles as cartoon villains, including the guy who tries to kill Scooby-Doo.