This is an archived article and the information in the article may be outdated. Please look at the time stamp on the story to see when it was last updated.
SAN DIEGO – The lead singer of a heavy metal band "As I Lay Dying" was arrested after he allegedly hired someone to kill his estranged wife, authorities said.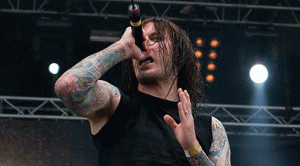 Tim Lambesis, lead singer and co-founder of the heavy-metal group As I Lay Dying, was arrested at a store on Vista Way in Oceanside about 2 p.m., after allegedly soliciting an undercover detective to kill his spouse, an Encinitas resident, according to sheriff's officials.
Authorities began investigating Lambesis, 32, in the case on Thursday, when they received information that he allegedly was trying to get someone to commit the slaying.
"You might think that you're talking to someone that's trusted," said Jan Caldwell, spokeswoman for San Diego County Sheriff's Department. "You might be talking to someone you know. But if you're looking to do something wrong and something bad, most people aren't going to let that rest. They're going to take that to a higher authority. So, something certainly as sinister as this, needed to be taken somewhere and it was."
Lambesis was booked into the Vista Jail on suspicion of solicitation of another to commit murder.  The case has been turned over to the District Attorney's Office.
He is scheduled to appear before a judge Thursday afternoon.
"I heard one of our captains say we prevented a tragedy," said Caldwell.
As I Lay Dying was nominated for a Grammy award in 2008 and has released six studio albums, according to the band's website, which says the group is scheduled to embark on a U.S. tour this month.  The band was formerly billed as a Christian rock band.
The band recently performed at SOMA concert venue on March 1.
Lambesis is also a member of "Pyrithion" and "Austrian Death Machine."