This is an archived article and the information in the article may be outdated. Please look at the time stamp on the story to see when it was last updated.
SAN DIEGO — One of the prime supporters of recently adopted zoning rules for Barrio Logan filed a lawsuit Thursday against shipyards that are seeking to get the regulations overturned.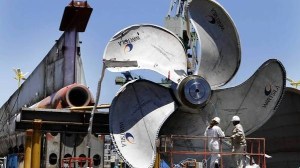 The Environmental Health Coalition wants to invalidate petitions used in an attempt to qualify a referendum. The complaint alleges the Port of San Diego Ship Repair Association made "false statements and misrepresentations" to get San Diegans to sign its petitions.
The City Council approved updates to the Barrio Logan Community Plan in a pair of 5-4 party line votes over the last two months.
Because one council action was a resolution and the other an ordinance, shipyard operators had to qualify referendums on each. They turned in more than 53,000 signatures for one, and are currently circulating petitions for the other.
At issue is the nature of a buffer zone that seeks to separate maritime businesses from residential neighborhoods in the economically disadvantaged area south of downtown San Diego. Opponents of the plan that passed contend suppliers to maritime businesses will be driven out of the neighborhood, which will raise costs and limit jobs.
The coalition's complaint notes the city's Election Code prohibits signature gatherers from using falsehoods to prospective signers.
"The out-of-state corporations couldn't get voters to sign the petition by telling the truth, so they resorted to outright lies," EHC Executive Director Diane Takvorian alleged. "These groups broke the law to silence our communities and derail five years and millions of dollars-worth of planning."
The coalition said the zoning plan's environmental impact report projected a 47 percent increase in jobs in the affected area.
It hasn't been announced yet whether enough of the signatures turned in to the City Clerk's office on Oct. 31 were valid. If that turns out to be the case, the City Council would have to decide whether to rescind its approval of the zoning plan or put it up to a public vote.
However, the ship repair association's Derry Pence said the collection of 53,000 signatures is "an overwhelming show of support" that demonstrates the City Council adopted a flawed zoning plan.
He said the shipyards have spent $350 million on operational and environmental improvements over the past decade and they don't plan to risk their investment.