This is an archived article and the information in the article may be outdated. Please look at the time stamp on the story to see when it was last updated.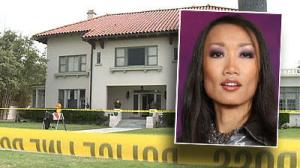 CORONADO, Calif. — The family of a woman whose nude body was found hanging outside her boyfriend's Coronado mansion is suing his ex-wife, his former sister-in-law and his brother for more than $10 million in damages, saying they are responsible for her death, which they label a murder even though authorities ruled it a suicide.
Rebecca Zahau's mother and sister filed the wrongful death lawsuit Friday in federal court in San Diego County against Dina Shacknai, her sister, Nina Romano, and Adam Shacknai. Zahau's boyfriend, Jonah Shacknai, is not named in the action.
At the time of Zahau's death, Dina Shacknai, who lives in Arizona, was staying at a vacation home a few blocks away from the mansion, Romano had flown in from Sacramento to be with her sister, and Adam Shacknai, who lives in Tennessee, was staying in the mansion's guest house, U-T San Diego reported.
The lawsuit states that each defendant may not have directly been involved in Zahau's death but each had threatened her and failed to warn her about a scheme to harm her. It alleges assault, battery, negligence and wrongful death, according to U-T San Diego.
Zahau had been living with the Jonah Shacknai, who split his time between Coronado and his company's headquarters in Arizona. On July 13, 2011, her body was found hanging outside the historic Spreckels mansion.
Two days earlier, Shacknai's 6-year-old son, Max, with ex-wife Dina, fell over a stairway railing in the mansion while under Zahau's care. Max was hospitalized with a grim prognosis when Adam Shacknai found Zahau's body. Max was pronounced dead several days after his fall.
Following a months-long investigation, San Diego County Sheriff's Bill Gore said investigators were convinced that Zahau took her own life based on physical evidence, medical information and witness statements.
Authorities speculated Zahau committed suicide because she was distraught over Max's declining condition. His death was ruled accidental.