This is an archived article and the information in the article may be outdated. Please look at the time stamp on the story to see when it was last updated.
SAN DIEGO — The last unclaimed space for burials at picturesque Fort Rosecrans National Cemetery in San Diego was claimed Tuesday, according to the director of the facility.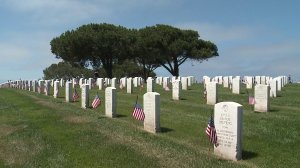 Room at the cemetery overlooking San Diego Bay has been at a premium for decades, with most remains being placed in a wall instead of buried in a casket in the ground.
"We have no new (wall) niches left," cemetery Director Doug Ledbetter told City News Service.
Ledbetter said space will be available for spouses of those already buried at Fort Rosecrans, and for eligible children. New remains will have to go to the Miramar National Cemetery, he said.
"We've known for quite a while that this has been coming," Ledbetter said. "The whole reason Miramar was built was we knew this was coming."
He said relatives of members of the armed services can still contact Fort Rosecrans since people sometimes give up spaces that have been claimed, or have their loved ones disinterred. He cautioned, however, that those are rare events.
Around 4,100 burials take place between the two cemeteries each year, according to Ledbetter. Rosecrans has the remains of 112,000 people from military conflicts dating back to the 1800s, including at least 23 winners of the Medal of Honor.
U-T San Diego reported that the last space went to Mary Rossa Luzar, a San Diego resident who died in 2010 at age 88. Her husband, Stanislav Rossa, died in March 1945 when his Army bomber was shot down off the China coast.