This is an archived article and the information in the article may be outdated. Please look at the time stamp on the story to see when it was last updated.
We're coming upon the LAST weekend to get all those "thoughtful" gifts on your list this holiday season.  So, I solicited the help of a professional.  Once again I turned to the style maven herself, Jennifer Rosson of StyleYourLifeBlog and she not disappoint.  Not only did she come up with gift ideas for the whole family, party hosts and friends of all ages, but also presents that will keep your dollars local.  That's right, we are consciously shopping local and I love it.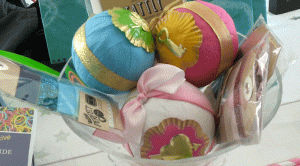 First, those rubber band bracelets you see on every girl, boy and mom these days is getting a bit more serious.  You can make them into a watch or learn new ways to update your creations with a "how to" book.  All at Gepetto's Toys.  You'll also find the nerf archery set and board game there as well.  Be sure to check it out.
Next, give your teen or tween something they actually think is cool.  The "Homies" label is all the rage right now and you can find them at Kitson at the new Headquarters Shopping mall downtown.  You might also want to pick up the grandma/grandpa books we feature in our story, as a way to preserve what's priceless:  your family history.
Not far from there, the Seaside Papery offers those surprise gift balls, Tatty Tattoos and those new popular elastic hair bands for stocking stuffers, as well as, hostess gifts that will keep you on the invite list for years to come.  The cocktail book is authored by a local, so be sure to drink that holiday cheer right up, guilt free.
For something for the home that's truly personal, Urban Beach House,  offers some custom artwork featuring all our local beaches unframed for $25, while a local surf company has it's own line of t-shirts that also say "San Diego".  You can also go local, by buying recycled beer bottles enjoying a second life as glasses.  They are too cool and from several local brewers.  Jennifer also found handbags and bow ties by local designers as well.
Something else that comes neatly wrapped in a box is from Darbysmart.  It's essentially, a craft in a box.  You can order it monthly, more infrequently and it can be as simple or demanding as your crafter wants it.  They prices start at $16 and go up to $69 depending on the craft.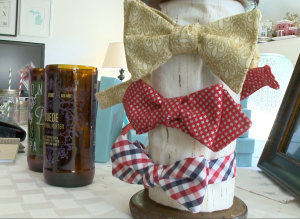 For the true procrastinator, there is Sugarwish.  A company that will send a sweet gesture on your behalf nearly instantaneously.  Your gift recipient will receive an email, they then select a candy of their choice, it's then delivered to them in a beautiful Tiffany-esque blue box with a note saying "wish granted".  It's that simple.  They can run anywhere from $25 – $65.00.
And finally, to recoup from all this shopping, why not stay local too.  Rancho Bernardo Inn is offering all kinds of holiday specials.  The one featured right now is "Eat, Drink & Be Merry" which includes a one night stay, some wine and beer tasting, chauffeur and breakfast for two.    It might be just what the doctor ordered.
Our thanks to our elf, Jennifer Rosson for making these last minute gifts, not only look painstakingly planned, but also showing us how we can support our local and small businesses.
Happy Holidays one and all!