This is an archived article and the information in the article may be outdated. Please look at the time stamp on the story to see when it was last updated.
SAN DIEGO — It's the largest rescue operation ever for the San Diego Humane Society.  The group joining the People for the Ethical Treatment of Animals to save 400 chinchillas from a ranch in Vista.
"This has been an enormous undertaking but we were honored," said Katherine Schenar, VP of Communications for the San Diego Humane Society. "When the need came, we stepped up."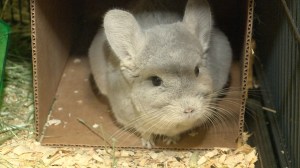 PETA representatives said the ranch bred and sold some of the small furry rodents and the others were killed and made into coats.
"The method of killing at that farm was electrocution," said Lisa Lange with PETA. "The clips are miniature versions of what you would use to jump start a car battery."
Lange said death for the animal is prolonged.
"These animals don't die right away," she said. "They feel all the pain of electrocution and all the pain of a massive heart attack but the chinchillas here at the Humane Society will not feel that."
PETA with funding from Simpsons co-creator Sam Simon, purchased the business.  PETA said it was told by the owners that if the business couldn't be sold, all the animals would be killed.
"That land by contract can no longer be used to breed and kill chinchillas," said Lange.
The Humane Society said it had been called out to investigate the ranch, but what was happening isn't illegal.
"It's not technically illegal, according to California state law," said Lange. "We think that to cause painful death like this is illegal and should be considered illegal but it is not written that way in the law."
Twenty part-time workers have been hired by the Humane Society just to care for the animals which have been spread out to the shelter's three locations. About 600 pounds of hay have been brought in along with 500 pounds of food and 150 pounds of dust since chinchillas bathe in dust, not water.
"We believe every animal matters and that's why we stepped up," said Katherine Schenar.  "We are confident San Diegans are going to step up and adopt these guys and give them a second chance at life."
The Humane Society is accepting donations online for the care efforts for the chinchillas.