This is an archived article and the information in the article may be outdated. Please look at the time stamp on the story to see when it was last updated.
LAKESIDE, Calif. – A local neighborhood is using the power of social media to fight crime. Members of the Eucalyptus Hills Community are using Facebook as a new form of neighborhood watch and now the rural homeowners are closer than ever.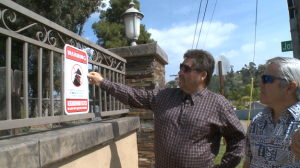 "The neighbors definitely feel like they know what's going on in the community," Lakeside resident Dennis Richardson said.
The Eucalyptus Hills Facebook page has become the new epicenter of a community that is spread out.
Richardson started the page in 2010 as a faster way to communicate with his neighborhood and it has grown into something else.
Crime prevention isn't the only function of the page, but it does help. Neighbors are able to get the word out about suspicious people and cars.
This community of 1100 has a tradition of looking out for each other and now residents can reach 543 people in a matter of seconds.
"Last week we had a report of a suspicious person, it immediately got posted on Facebook [and] the sheriff got called," Richardson said.