This is an archived article and the information in the article may be outdated. Please look at the time stamp on the story to see when it was last updated.
LAKESIDE, Calif – A 22-year-old man was hospitalized early Thursday after being carried out of a burning attic in Lakeside by sheriff's deputies, authorities said.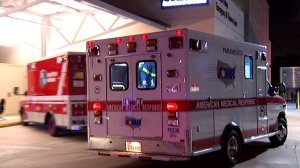 Deputies responding to a fire on the 12200 block of Cajon Vista Court just before 11:30 p.m. Wednesday were met by a woman who said her boyfriend was dying inside, according to San Diego County sheriff's Sgt. Mike Forbes.
Deputies rushed into the home and found Michael Gabbett unconscious and unresponsive in the attic, which was on fire and filled with smoke, Forbes said.
They carried Gabbett out of the attic through a door that led to an upstairs bedroom, then carried him downstairs and out of the home, Forbes said. Paramedics then took Gabbett to UCSD Medical Center. The extent of his injuries was unclear.
Three deputies were treated at the scene for smoke inhalation, Forbes said.
Damage to the home was minor, according to the sergeant, who said the cause of the fire was under investigation.