This is an archived article and the information in the article may be outdated. Please look at the time stamp on the story to see when it was last updated.
SAN DIEGO –The city of San Diego is draining a popular East County lake so residents can use the  water over the strong objections of the supervisor who represents the area.
"Even more scarce than dollars is water," said interim Mayor Todd Gloria, talking about his decision to drain down Lake Morena. "That's why you have this dispute."
"To drain this lake for a one time financial resource is poor budget planning," said county Supervisor Dianne Jacobs. "Tens of thousands use the park for camping, boating and fishing. It brings in revenue of a little less than $400 thousand a year to the county."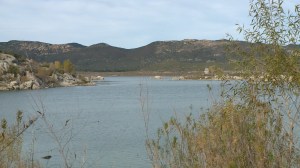 Gloria believes if the money is not used for household water it will cost the city $5 million dollars.
"I'm acting for ratepayers. We cannot afford not to draw down this water that the city of San Diego owns."
The City Council already voted this year to increase water rates by nearly 15 percent over two years.
Mayor Gloria admits there will be a negative impact on the lake and its uses, but he says its necessary to avoid another rate hike.
"San Diegans need to run their facets, flush their toilets, bath and that's what this water is going to be used for and in my world that takes priority over recreational uses," Gloria said.
The county  disagrees, saying the move is shortsighted because the water also serves as a critical firefighting resource especially during wild fire season.
As a compromise, the city delayed the draining process until December, which is traditionally the tail end of the Santa Ana winds season.
"Every ounce counts," said Gloria. "This is locally sourced water. To not take this local source of water means we would have to get it from outside of the city, which is even more expensive."
"I think it very unfortunate for the city and shortsighted by the city," said Supervisor Jacobs. "They look at this only from a financial standpoint."
The water will be transferred in several installments to Lower Otay Lake. In the process, the water level at Lake Morena will fall 23 vertical feet.