This is an archived article and the information in the article may be outdated. Please look at the time stamp on the story to see when it was last updated.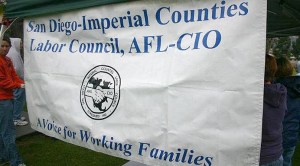 SAN DIEGO — San Diego Unified School District Trustee Richard Barrera has been chosen to succeed former Lorena Gonzalez as secretary- treasurer and CEO of the San Diego-Imperial Counties Labor Council, it was announced Thursday.
Gonzalez resigned after being elected to the State Assembly and recommended that Barrera succeed her, organization officials said.
The Labor Council Executive Board unanimously recommended Barrera, a part-time organizer for the labor council, to take over and labor council delegates elected him at their monthly meeting.
Gonzalez bested Chula Vista Councilman Steve Castaneda in the 80th Assembly District special election, winning the seat with 72 percent of the vote. She will take over for Ben Hueso, who was recently elected to the state Senate.
"Lorena's leadership of this Labor Council is the stuff of legend, and I'm honored to continue the work that she's led for so many years," Barrera said. "Working families have built tremendous power for themselves in San Diego, and I can't wait to keep pushing to grow our middle class, protect workers on the job and stay on the path to achieve economic justice for every San Diegan."
Barrera, a member of the SDUSD board since 2008 and its president for two years, will complete Gonzalez's four-year term, set to expire in 2016.