This is an archived article and the information in the article may be outdated. Please look at the time stamp on the story to see when it was last updated.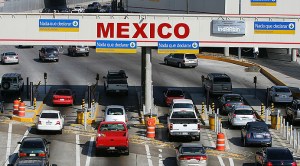 SAN DIEGO — Federal agents staffing the San Ysidro Port of Entry over the weekend caught a motorist trying to sneak about 70 pounds of methamphetamine into the United States from Mexico, authorities reported Monday.
The 19-year-old Los Angeles man pulled into the inspection and processing station in a 2008 Nissan Altima about 5:30 p.m. Sunday, according to U.S. Customs and Border Protection public affairs.
While officers were looking over the vehicle, a service dog alerted them to contraband inside it. They then discovered 30 packages of the illegal drug concealed within the quarter panels and passenger-side rocker panel of the car.
The driver, whose name was withheld, was arrested and turned over to Homeland Security Investigation agents, who took him to the Metropolitan Correctional Center in downtown San Diego to await arraignment.
The seized methamphetamine had an estimated street value of roughly $800,000, officials said.