This is an archived article and the information in the article may be outdated. Please look at the time stamp on the story to see when it was last updated.
SAN DIEGO – A section of the La Jolla Shores boardwalk where famed oceanographer Walter Munk performed experiments as far back as the 1940s was named in his honor Wednesday.
The stretch was dedicated as Walter Munk Way under the city of San Diego's honorary street naming program.
"Now my birthday, as you know, is 100 years tomorrow," Munk said at the dedication. "And I have a worry that I would like to share with you that the CO2 going into the atmosphere is now producing a rate of sea level rise so that the Walter Munk Way is not going to enjoy a 100-year birthday."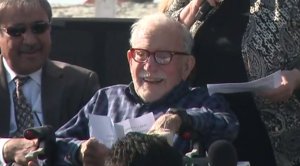 Munk became a professor at the Scripps Institution of Oceanography in 1939, provided forecasting for tides and waves that assisted the allies in World War II and helped found UC San Diego. He's been referred to as the "Einstein of the Oceans."
Councilwoman Barbara Bry, who represents La Jolla, said Munk — who turns 100 on Thursday — still conducts research.
UCSD Chancellor Pradeep Khosla, Sen. Toni Atkins, D-San Diego, and Assemblyman Todd Gloria, D-San Diego hosted the ceremony.
The city's honorary street naming program, which started this year, has recognized "Star Wars" actor Mark Hamill in Clairemont, community leader Kathleen Harmon in Skyline and former city Councilman and county Supervisor Leon Williams.