This is an archived article and the information in the article may be outdated. Please look at the time stamp on the story to see when it was last updated.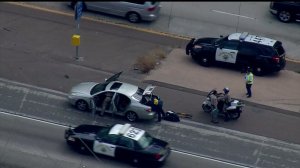 SAN DIEGO — A homicide suspect from the Los Angeles area was arrested during a freeway traffic stop in Mission Valley Friday afternoon.
California Highway Patrol officers pulled over the suspect, whose name was not immediately available, on southbound Interstate 805 at I-8 about 3:15 p.m. at the request of an undercover Los Angeles County sheriff's detective, CHP public-affairs Officer Robert Catano said.
They arrested the driver, along with a passenger, without incident, he said.
Details on the homicide case were not immediately available.