This is an archived article and the information in the article may be outdated. Please look at the time stamp on the story to see when it was last updated.
IMPERIAL BEACH, Calif. – Several dozen people from the Kumeyaay Nation gathered near Naval Amphibious Base in Coronado to protest the Navy's construction of a new SEAL training center on 'sacred burial ground.'
The group says the Navy is going back on their promise to leave the land unscathed.
"In 2002, the 7,000-year-old partial remains of a young boy were discovered deep in the ancient mound," according to La Posta Band of Mission Indians councilwoman Cynthia Parada. "The Navy reinterred the ancient human remains with the promise they would be kept safe in perpetuity for another 7,000 years."
But Parada says the Navy is now desecrating the site for the new training center.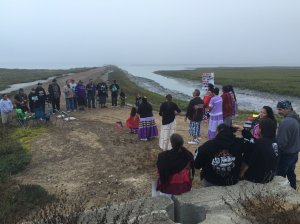 "We are simply asking for the Navy to edge their massive project's border a slight bit westward," the group stated in a news release. "The overall footprint of the base would be reduced by less than 4%. They could easily build their facility while avoiding the 7,000-year-old site, but doing so would mean giving in to the demands of the Kumeyaay Nation and the Navy is very clear that they don't give in to demands. Or proper oversight. Or treaties. Or federal laws."
The Navy says it has put a 100 foot buffer around all eligible archaeological sites and environmentally sensitive areas.
"Following nine months of extensive leadership meetings, subject matter expert information exchange and on-site visits with technical experts designed to enhance the Kumeyaay's confidence in the Navy's environmental planning for the Coastal Campus, the Navy finds itself in the unfortunate position where the Tribes will not accept the technical analysis, regulatory compliance posture or the offer to work in cooperation using their own identified Native American Monitors," according to the Public Affairs Office at Naval Base Coronado.
Tribal members say they feel they've been ignored and are now running out of hope.
"If they don't listen to us, what's going to happen is they're going to end up building on top of those remains and that's not appropriate for any human," said Angela Elliott Santos, chairwoman of the Manzanita Band of the Kumeyaay Nation.