This is an archived article and the information in the article may be outdated. Please look at the time stamp on the story to see when it was last updated.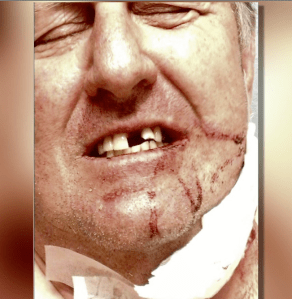 SAN DIEGO — Buddy Siso's throat was mauled, his leg bitten and several of his teeth were knocked out after being attacked by an unleashed pit bull as he was delivering mail in Golden Hill two weeks ago.
"The dog had physically pushed his way through the gate and was virtually on me, within a second,"  said Siso. "That was the most horrific and terrifying second of my life."
The dog owner showed up and removed the dog, but at that point Siso started dangerously bleeding.
Sandra Mello, a neighbor ran out and administered first aid.
"I'm glad I got there when I did," said Mello.
He was wearing his mailbag strap across his chest and over his neck, a safety measure he learned about during a dog bite prevention training in December.
"That saved my life," said the man who's been a mail carrier in San Diego for 14 years. Siso told his story Thursday, hoping to bring attention to what he and others say is a growing issue in San Diego.
Last year, nearly 6,000 postal workers were attacked by dogs. In San Diego, 32 mail carriers were seriously injured in dog related incidents last year, putting the city on the top 10 list of cities with the highest number of dog attacks on postal workers.
"So far in 2013, we have 31 incidents and we have 5 months left in the year," said San Diego Post Master Ken Snavely.
Snavely said it's a growing problem and is asking dog owners to be more mindful or face losing their mail service.
"If your dog is running loose, the postal service will not deliver your mail, or your neighbors mail," said Snavely.