This is an archived article and the information in the article may be outdated. Please look at the time stamp on the story to see when it was last updated.
OCEANSIDE, Calif.  — A 77-year-old North County ocean kayaker found two bottles with messages in them that had floated more than 6,000 miles before she pulled them from Oceanside Harbor.
Oceanside resident Sonja Van Hall's daily workout starts every morning at the gym. From there it's off to Oceanside Harbor for a bike ride, and that's just the warm-up. Her real passion is kayaking. On a good day she can cruise on the water for hours.
Van Hall said she finds a variety of interesting object floating along the shore, but nothing quite as interesting as her latest discovery.
"I've found throw-away bags, cans and bottles, but I've never found a bottle with a message in it, until now," she said.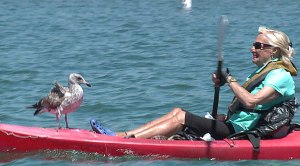 Van Hall found not one, but two plastic bottles floating on the water. What made them so exciting was what she found inside.
"I was going out to the pier and I saw one bottle and I was shrieking 'Whoopee, there's a message in it!" Van Hall said.  "Then I saw another one and thought this was a prank –this was not for real."
But it was no joke. The messages were real. They drifted thousands of miles and crossed the equator before reaching the San Diego coast. Van Hall learned that the bottles and the messages they carried were a school project about technology from New Zealand.
"Hello future. This letter was typed in May 2012. A great time to live in. We have so many cool things these days. Stay tuned for it all." wrote one student.
The address of the school was in the letter, but there was no email address.
Van Hall  said she was inspired by the messages and if she were to put a message in a bottle, the message would be simple.
"I would say, 'WHOOPEE, you found a bottle with a message in it!' because I know how exciting that is," said Van Hall.
Van Hall said she planned to write the students back and try to connect them with students in Oceanside, including her 9-year-old grandson.