This is an archived article and the information in the article may be outdated. Please look at the time stamp on the story to see when it was last updated.
SAN DIEGO – The La Jolla-based company Kashi was packing up it's San Diego office and moving to Michigan.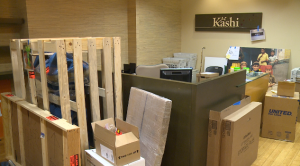 Fox 5 found crews loading moving trucks Tuesday morning outside the company's office at 4275 Executive Square.  Kellogg Corporation who owns Kashi said the company is moving to its headquarters in Battle Creek, Michigan with intensions of becoming better positioned for future growth.
It's the second company this week to announce that it's leaving San Diego.  Digirad, a medical imaging device maker, said Thursday its moving headquarters from Poway to Atlanta.
Kashi was founded in La Jolla in the early 1980s.  The cereal company remained small until Kellogg bought out the company in 2000.  The move will leave 14 employees out of work and another 14 will have the option of moving to Michigan.
"They are basically consolidating all their units," said Lynn Reaser, who is the Chief Economist with the Fermanian Business School at Point Loma Nazarene University. 
She said Kashi's departure is not a big concern.
"First of all, we're talking about less than 30 employees being impacted, that's relative to a base of 1.3 million who work here today in San Diego County," Reaser said.
Reaser also serves on the California State Controller's Council For Economic Advisory Council and monitors the actions of various companies around the state.  She said companies come and go as a nature of the business.
"Some companies may be consolidating out of California others will be consolidating within California in San Diego in particular," said Reaser.  "This is not a reflection of our negative business climate."
However, Reaser said it's no secret the business climate in California could use some improvement.
"It's certainly a message to lawmakers that we need to constantly see that our companies here are happy," said Reaser.
Reaser said a bigger concern for San Diego is sequestration.
Employees at the La Jolla office told Fox 5 Kashi would keep a local office, but only with a handful of employees.