This is an archived article and the information in the article may be outdated. Please look at the time stamp on the story to see when it was last updated.
SAN DIEGO – The owners of a popular Vietnamese sandwich shop promised Wednesday that they will rebuild K Sandwiches after it was
gutted by a fire overnight.
The Tran family was just closing up at 9 p.m. Tuesday when flames erupted at K Sandwiches on Linda Vista Road.  Within minutes, the building turned into a burning inferno.
"When we saw smoke, we said, just everybody get out, just rush out the front door!" said Man Tran, owner.
"After about 20 minutes it had burned so much of the supporting structure we had to pull all of the firefighters out for their safety," said San Diego Fire-Rescue Battalion Chief Mike Finnerty.
It took firefighters nearly an hour to knock the flames down.
The Tran family has owned K Sandwiches for a decade and were speechless from the loss.
"It's really, really hard. It's so hard to talk about this," said Alexis Tran, owner.
"My uncle started this with his family and this was his baby," Nick Tran said about Hen Tran, who passed away 4 years ago.
It's even harder when considering the Tran family built the business from the ground up. K Sandwiches was Hen Tran's legacy to his family.
"I remember the first day, buying the shelves and everything, putting everything together," said Jennifer Tran, owner. "[Hen Tran] put the tile in himself."
"For all of it to burn down like this, that was my dad's design you know? He created this design and everything," said Jennifer.
The Trans were able to find a sign of hope in the ashes. A framed picture of Hen Tran that once hung in the office of the sandwich shop was in perfect condition, untouched by flames.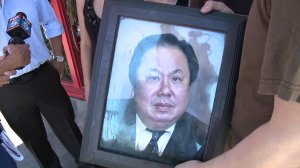 "He did everything he could before he passed away, that's why the picture was so important," said Man. "It was the first thing we looked for and it was okay and we were really happy."
Man said their father was always their protector and finding the picture proves he still is.
"He's still okay, so the family will be okay. The business will be okay. He's still watching over us," he said.
The family said they would rebuild. Many customers were glad to hear the news even those who tried to save it Tuesday night.
"One of the firefighters at the fire used to eat here, their parents used to bring them here," said Chief Finnerty.
Damage is estimated at $1.5 million. The 88-year-old grandmother of the family was taken to the hospital, but is being treated related to stress and not the fire.
"It's going to be bigger, it will be better," said Nick Tran.
San Diegans will miss these sandwiches, but the Tran family says #KSandwiches will be back! http://t.co/FlPjkIHg2u pic.twitter.com/oXhVgtiCUG

— Sharon Chen (@SharonChenTV) August 5, 2015
#KSandwiches, the popular Vietnamese Sandwich in Linda Vista burned last night, the story of how it was a true family legacy lost @4,5 & 6.

— Sharon Chen (@SharonChenTV) August 5, 2015