This is an archived article and the information in the article may be outdated. Please look at the time stamp on the story to see when it was last updated.
SAN DIEGO – The day after Justin Bieber performed in San Diego, he tweeted a picture Sunday of himself receiving a kiss from a young lady.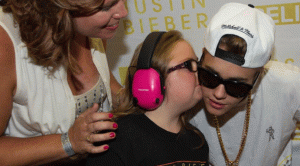 Before the teen-idol took the stage at Valley View Casino Center Saturday night, Bieber met up with Marisa, a young San Diego girl with down syndrome and a kidney transplant patient.
"Like i said yesterday..i do this for you. :) http://fox5sandiego.com."
Jagger and Kristi with Magic 92.5 helped coordinate a meet-n-greet with the popstar, Marisa and her mother Adele.
On Sunday, Bieber tweeted the following message to his 40 million followers with a link to a picture of Marisa giving him a kiss on the cheek:
"One of the best parts of the job. nice meeting you Marisa. stay strong for me! pic.twitter.com/dDXszng8bD."