This is an archived article and the information in the article may be outdated. Please look at the time stamp on the story to see when it was last updated.
SAN DIEGO – Before he hit the stage at Valley View Casino Center Saturday night, Justin Bieber made one fan's dream come true.
Marisa, a young girl with Down syndrome and a kidney transplant patient, got the chance to live out her dream to meet the pop star.
Over at tHAIRapy Hair Salon in Point Loma, Marisa was prepping for the meet up at the concert along with her mother, Adele.
The meeting came about with help from Adele and a family friend.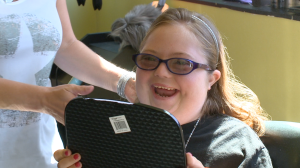 They both reached out to Jagger and Kristi from Magic 92.5 to see if they could help out.
They were able to arrange the visit and make her dream become a reality.