This is an archived article and the information in the article may be outdated. Please look at the time stamp on the story to see when it was last updated.
Geek icons joined forces with Stone Brewing Co. to brew a collaboration beer to kick off Comic-Con International: San Diego, and Stone Farking Wheaton w00tstout is the nutty result.
I sat down with "Star Trek: The Next Generation" actor, science fiction author and home brewer Wil Wheaton to share a bottle of the pecan-laced imperial stout and to discuss the genesis of the project and what it was like to turn pro brewer for a day.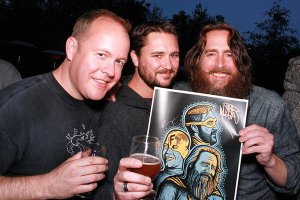 Wheaton said he took up home brewing more than two years ago as a way to connect with his adult son, and that he was quickly hooked by brewing's melange of art and science. When Stone's  Brewing's founder and Chief Executive Greg Koch — a longtime friend of Wheaton — asked the actor if he would be interested in working on a collaboration beer with the Escondido brewery Wheaton said he replied, "Who says no to that?"
The wheels were in motion, and soon the third member of the collaboration team was added: news site fark.com founder, beer geek and mutual friend Drew Curtis.
It was Curtis' idea to create the beer version of Derby Pie — the chocolate, pecan and bourbon confection from his native Kentucky — and the recipe for an imperial stout that used wheat, rye and pecans soon followed.
To reinforce the Kentucky bourbon connection, a portion of the brew was aged in used bourbon barrels for more than two months then blended into the finished beer. The results are a 13% alcohol stout that is rich, thick, and complex.