This is an archived article and the information in the article may be outdated. Please look at the time stamp on the story to see when it was last updated.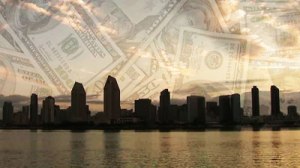 SAN DIEGO (CNS) – The University of San Diego Burnham-Moores Institute of Real Estate's Index of Leading Economic Indicators released Thursday showed a 0.7 percent rise in July compared to the month before.
The increase, the 11th in a row, was attributed to sharp gains in building permits, consumer confidence and the outlook for the national economy, professor Alan Gin said.
"With July's gain, the outlook for the San Diego economy remains unchanged from what has been reported in recent months — a positive year ahead with solid growth in the local economy," Gin said.
Job growth, however, has slowed because of federal budget reductions and the expiration of payroll tax cuts, he said.
The number of building permits issued in San Diego County rose sharply last month and is on pace to hit about 8,000 this year — which would be the highest since 2006, according to Gin.
He said consumer confidence is at its highest level since September 2007. The national Index of Leading Economic Indicators climbed in July for the third time in four months, the professor said.
The San Diego index last month stood at 127.5, the highest since December 2007.