This is an archived article and the information in the article may be outdated. Please look at the time stamp on the story to see when it was last updated.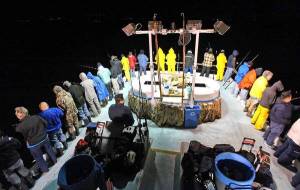 It was almost midnight when someone spotted the banana.
Word on the boat spread quickly. Guys in the back corner were snacking on a bunch, people said, but it was unclear whether they had thrown the bad-luck fruit overboard.
No matter — the damage had already been done.
The Western Pride, a no-nonsense, 76-foot Ditmar Donaldson, was headed back to port without having hooked a single squid.
The 75 or so anglers onboard had expected waters teeming with Humboldt squid, which are known for their mysterious sudden invasions of California coastal waters.
"This is a natural occurrence that happens periodically since about 2003, although we are not exactly sure why," California Department of Fish and Wildlife marine biologist Dianna Porzio wrote in an email. "Humboldt, or jumbo squid, is a short-lived species that has experienced a range expansion in the last decade or so and are probably feeding and spawning off our coast, but they are normally found in deeper water."
Sometimes, though, they ascend from the depths, making for massive sportfishing hauls.
One night last week, about 15 anglers reeled in about 340 squid within about an hour near Dana Point, said Rob Armes of Davey's Locker Sportfishing and Whale Watching.
The only reason they didn't catch more was that they didn't have enough anglers.
"If we'd had 40 or 50 people, we'd have gotten 800 to 900 squid," Armes said. "They were floating all around the boat. They were jumping. They were everywhere."