This is an archived article and the information in the article may be outdated. Please look at the time stamp on the story to see when it was last updated.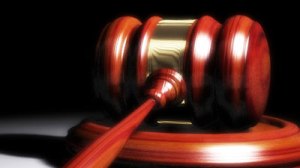 SAN DIEGO — The judge presiding over the projected yearlong death penalty trial of two alleged leaders of the violent Los Palillos Mexican drug gang is medically unable to proceed, San Diego court officials said Friday.
Opening statements in the trial of Jorge Rojas Lopez and Juan Francisco Estrada Gonzalez started last Monday, but soon after, Judge John Einhorn went home ill with an undisclosed medical condition.
Friday, parties in the case were advised that Einhorn would have to withdraw from the trial.
Another hearing is scheduled Monday.
As he began his opening statement, Deputy District Attorney Mark Amador told a jury that Rojas and Estrada — known as Bosses No. 1 and No. 2 — used violence, kidnappings and assaults to move drugs through Tijuana to San Diego County.
Rojas, 33, is charged with participating in nine murders. Estrada, also 33, is accused in six killings.
The defendants are already serving sentences of life without parole after being convicted of kidnapping and other crimes. Their death penalty trial could be the longest in San Diego County history.