This is an archived article and the information in the article may be outdated. Please look at the time stamp on the story to see when it was last updated.
SAN DIEGO — A judge Monday ruled that yoga classes can continue at schools in the Encinitas Union School District.
Superior Court Judge John Meyer ruled that the district's yoga program does not endorse any religion.
"From both a legal and common sense perspective, the judge got it right," wrote Dave Peck with  YES! Yoga for Encinitas Schools.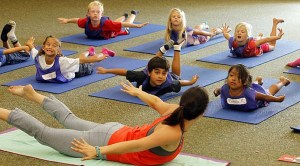 The district was sued by the National Center for Law and Policy on behalf of Stephen and Jennifer Sedlock, whose children attend one of the district's nine schools. On its website, the nonprofit Christianity-based center said its focuses on the protection and promotion of religious freedom, the sanctity of life, traditional marriage, parental rights and other civil liberties.
The plaintiffs contended that Ashtanga yoga is religious in nature and that opting out costs students physical education time. They wanted the yoga program ended but did not ask for a financial judgment.
In his nearly two-hour ruling from the bench, Meyer said that even though yoga dates back to 1500 B.C. and has its roots in Hinduism, the EUSD came up with a curriculum for its 30-minute yoga classes that emphasizes respect, proper breathing and posture.
"There's nothing religious about that," the judge said.
During trial of the lawsuit, El Camino Creek Elementary's principal, Carrie Brown, testified that the yoga class was one component of an enrichment program that also includes instruction in music, computers and karate. A couple of parents had their children opt out of the other elective courses, too, she said.
Another yoga teacher said "that what I am teaching is not religious," Meyer noted.
According to the judge, a reasonable student would not objectively perceive the advancement of religion in the yoga classes.
Controversy over the program erupted last year as the district began to develop a health and wellness curriculum that includes yoga.
The program was funded by a $500,000 grant from the K.P. Jois Foundation, which promotes Ashtanga yoga, a fast-paced form of yoga of progressively more demanding poses with synchronized breathing.
Meyer, in his ruling, called the influence of the Jois Foundation on the EUSD "troublesome."
EUSD Superintendent Timothy Baird testified that while children opting out of yoga receive less PE time than participating students, they still get at least the state-required minimum of PE minutes.
After Monday's ruling, Baird said EUSD's yoga program "is an excellent program for kids, and we are moving forward with our plans to have it in place next year."
The plaintiffs said an appeal is likely.