This is an archived article and the information in the article may be outdated. Please look at the time stamp on the story to see when it was last updated.
SAN DIEGO — A man accused of killing his estranged teenage wife was removed from court Thursday after he tried to make a lengthy statement to the judge.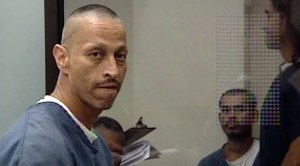 Armando Gabriel Perez, 39, is charged with murder and lying in wait in the Oct. 12, 2010, death of his 19-year-old estranged wife, Diana Gonzalez, whose body was found in a men's restroom at San Diego City College.
When Perez said he wanted to read something, Judge Peter Deddeh stopped him, telling him the purpose of the hearing was to enter a plea and not to make a speech.
When Perez insisted on reading what appeared to be a lengthy statement, Deddeh said the defendant was being uncooperative and had him removed from the courtroom and entered a not guilty plea on his behalf.
"He (Perez) doesn't have a right to do that," the judge said before setting a status conference for March 21.
Perez was arrested in Tijuana a year ago and handed over to San Diego authorities six months later. He was ordered to stand trial earlier this month.
Deputy District Attorney Teresa Santana told a judge at Perez's initial arraignment last August that he and the victim wed in December 2009 and had a baby daughter a week later. Perez had a history of domestic violence against Gonzalez and, at one point, told the victim he would kill her or her family if she ever left him, the prosecutor alleged.
When she enrolled in classes at San Diego City College in the fall of 2010, Perez went with her even though he was not enrolled, Santana said.
The night of the murder, the victim's family gave her a ride to school and students in her class noticed Perez perched in a tree and later saw him waiting for her, according to the prosecutor.
The victim's parents reported her missing, and later a man discovered her body in a men's restroom on campus. She had been stabbed in the neck and all over her body, Santana said.
Perez faces life in prison without parole if convicted. U.S. authorities agreed not to seek the death penalty in return for the defendant's extradition from Mexico.