This is an archived article and the information in the article may be outdated. Please look at the time stamp on the story to see when it was last updated.
SAN DIEGO — A woman who walked away from a misdemeanor jail sentence in Michigan in 1977, but went back and cleared up her record, spent five weeks in a San Diego jail until her record was once again cleared up Friday.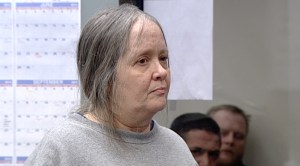 It was not the first time that Jamie Lewis, 60, was arrested for the cleared-up crime. She spent time in Nevada in 1996, once again because police found the old arrest warrant but did not connect to a judge's 1982 decision that she had already paid her debt to society.
Lewis Friday proved that she had changed her name, from Judy Lynn Hayman, one year after clearing up the 1982 felony arrest warrant in Michigan.
Lewis was arrested at her Balboa Park-area home Feb. 3 and has been in a San Diego jail ever since. Prosecutors from the San Diego County District Attorney's Friday dismissed a fugitive complaint, clearing the way for her release.
Michigan corrections officials said Lewis — then named Hayman — pleaded guilty in June 1976 to a misdemeanor charge of attempted larceny in a building for trying to steal clothes from a Detroit-area store. She was sentenced to serve between 16 months and two years in custody.
Ten months later, she walked away from the Women's Huron Valley Correctional Facility. But she went back to Michigan in 1982 to take care of the outstanding felony warrant for the escape and was sentenced to credit for time served, according to her attorney, Lisa Damiani.
Hayman legally changed her name to Jamie Lewis in 1983, and in 1996, Lewis was arrested in Nevada. Authorities determined her attempted larceny sentence had been suspended, and she was freed from custody, according to Damiani.
Friday, the judge was shown that the latter part of Lewis's court file was located and her record had been corrected by Michigan authorities to show that Hayman had done her time in custody, and Lewis is not wanted for any crime there.